Women's Ministry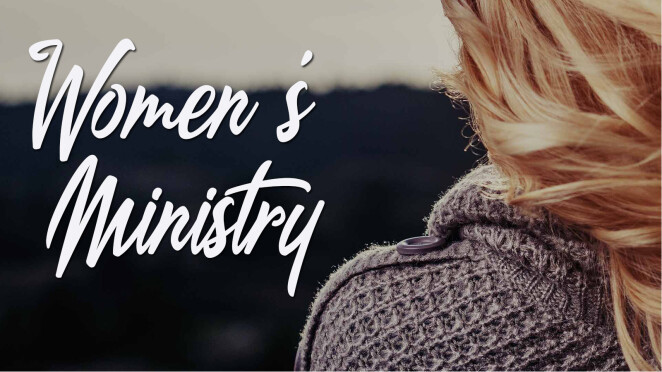 Women's Ministry is a place where we grow together, build relationships with each other, and serve alongside one another. We seek to lead women into a personal and passionate relationship with Jesus Christ, embracing the truth that we are in deep need of His saving grace.
This grace removes our pretense and frees us to be honest and real with ourselves and others as we find our worth and our identity in God. His life-giving grace takes hold of our hearts, transforming our lives in our friendships, marriages, church, community, and the world.
For more information, contact Kasey Knott or Shannon Young.
Events:
PAINT & PIZZA NIGHT: October 7th @ 6:00pm
TABLE 2:4:6: November 15th @ 6:00pm
CHRISTMAS PARTY & MISSIONS PROJECT: December 9th @ 6:00pm
MARRIAGE NIGHT: October 17th 5:30pm-8:00pm
Small-Group Bible Studies:
Strengthen your relationship with God and with other believers by joining us in a life-giving small group setting that is drenched in fellowship, accountability, prayer, and the study of the Word. If you would like to get involved and lead a bible study please contact Kasey Knott.
Fall Bible Studies:
Join us for Women's Bibles Studies. Bible studies are small group setting, video and discussion based format that meet at the church. We will end our Fall sessions in December. Leaders will communicate end dates. Times and descriptions are below. Contact one of the leaders below for more information and click on the links to sign up.
MONDAYS:
THE BOOK OF EPHESIANS
Meets by zoom on Mondays at 8:00 am. Begins September 13th. Questions? Contact Amber Vrbas
WEDNESDAYS:
MORNINGS:
ELIJAH BY: PRISCILLA SHIRER
TIME & PLACE: 9:30 am in Youth Room 1 - Begins September 8th
Old Testament heroes are best known for their most celebrated moments: Moses dividing the Red Sea; David slaying Goliath; Gideon routing an insurmountable army; Joshua marching around the defiant walls of Jericho.

And Elijah—calling down fire on Mount Carmel.

Blinded by the remarkable narratives of our biblical heroes, we can forget they each had a backstory—months and years of development, even difficulty, which fortified their spiritual muscles and prepared them for the tasks that made their lives unforgettable.

Every serious believer longs to summon up the kind of boldness and faith that can stand firm on Mount Carmel and pray down heaven into impossible situations. Yet few are willing to go through the process required to get them there. Strength of faith, character, and boldness can only be shaped in the hidden fires of silence, sameness, solitude, and adversity. Those who patiently wait on God in the darkness emerge with their holy loyalty cemented, their courage emblazoned, and their confident belief in Him set afire.

Join us on this journey through the life and times of the prophet Elijah to discover how the fire on Mount Carmel was forged in the valley of famine. And how the emboldened, fiery faith you desire is being fashioned by God in your life right now.
Taught by: Martha Reilly. Contact her with any questions.
Finishing up 3 weeks of GOD OF DELIVERANCE BY: Jen Wilkin - Begins August 25th
PRAYING AT THE CROSSROADS BY: Ken Coley - Begins Sept.15th
Prayer is essential to our spiritual growth, yet few of us pray as often or as fervently as we would like. We turn to God only in moments of desperation and crisis. God wants us to turn to Him at every moment of our lives. In Praying at the Crossroads you'll learn from twelve of the Old Testament Leaders.
GOD OF FREEDOM By: Jen Wilkins - Begins in Spring
Every book of the Bible tells us what is true about God. In Genesis we see Him as Creator and Covenant Maker. In Exodus we see Him as our strong Deliverer who sets us free from sin and death.

In this 10-session study of Exodus 19–40, journey through the story of how God shepherds His newly-liberated children into an understanding of what their freedom means: lives consecrated for service to God and to one another. Revisit familiar scenes of the giving of the Ten Commandments, the idolatrous worship of a golden calf, and of the intricate details of the tabernacle. And with fresh perspective, ask what these stories teach God's children today about how to live as those set free.

In every page of the Bible, learn to see Christ through the stories of His people. And discover how the God who created you and made a covenant with you will deliver you from death to life, for His name and renown.
TIME & PLACE: 5:15pm in Adult Building - Upstairs at Church
Bring your bible and join us just as you are! Childcare Provided by REGISTRATION ONLY
Taught by: Kasey Knott Contact her with any questions.
THURSDAYS:
AFTERNOONS:
GOD OF DELIVERANCE BY: Jen Wilkin
TIME & PLACE: 1:00 PM at The Mendenhall's home
DATES: Begins September 9th
"Now there arose a new king over Egypt, who did not know Joseph" (Exodus 1:8).
With that introduction, we enter into the story of the Hebrew people in the Book of Exodus. No longer under the protection of their forefather Joseph, the children of Israel became slaves to the Egyptians. But God was raising up a deliverer in Moses, to lead His people from bondage to freedom so they could worship Him.
The exodus of the Israelites shapes our understanding of the whole Bible, its themes reverberating all the way to Revelation. Exodus is the birth narrative of a nation unmistakably guided by the Great Deliverer.
In this 10-session verse-by-verse study of Exodus 1–18, Jen Wilkin shows us that Israel's story is our story: the same God who delivered Israel also delivers all those He loves from slavery to sin and from service to the pharaohs of this world. He lifts our eyes to the promised land He has prepared where we dwell with I AM and worship Him as the one true God.
Bring your bible and join us just as you are!
NO Childcare provided
Taught by: Karen Mendenhall. Contact her with any questions.
EVENINGS:
THE BOOK OF 1,2 & 3 JOHN
TIME & PLACE: 7:00 pm in Meeting Room 1 at Church
DATES: Begins August 25th
Bring your bible and join us just as you are!
NO Childcare Provided
Taught by: Lindsay Ward Contact her with any questions.
SEAMLESS - UNDERSTANDING THE BIBLE AS A COMPLETE STORY BY: Angie Smith
TIME & PLACE: 6:30 pm at The Vann Home
DATES: Begins September 9th
Bring your bible and join us just as you are!
Taught by: Amy Vann Contact her with any questions.
MOPS:
MOPS is open for registration for the 2021-2022 year. Being a mom is a challenging and sometimes lonely job. If you are a mother of a preschooler (pregnancy through kindergarten) and long for some "grown-up" time, then ALEDO MOPS welcomes you to join us! MOPS is a non-denominational, Christian organization dedicated to meeting the needs of mothers of young children. The women in MOPS come from different backgrounds, yet have similar needs and a shared desire to be the best moms they can be. There will be a time of small groups where we dig into God's Word and break it down together. There will be guest speakers, activities, coffee, and snacks.
Our meeting date is usually the second Monday of the month. There will be playdates and other events in addition to the meeting day. Watch for the schedule soon!
Please CLICK HERE to sign up and register for childcare.

Questions? Contact Tamara Welsh or Kasey Knott
BSF - Bible Study Fellowship:
Women of all ages around the world have the opportunity to study the Bible together, exploring the meaningful questions of life, going deeper in their relationship with Jesus Christ and connecting with other women in conversations about things that matter.
Group members spend time in personal Bible study during the week with questions that prompt deeper thought. Once a week they meet in-person or online for small-group discussion around what they've read. They also have access to a teaching that applies the truths of Scripture to daily life along with comprehensive lesson notes on the passage they studied.
The Crossing has recently become a host church. CLICK HERE TO FIND A SIGN UP.
Questions? Contact Kasey Knott or Andrea Nelson

Discipleship
Discipleship is not just another church program, but instead, it is a lifestyle to be adopted by every follower of Christ. It is a commitment to obey Jesus's last words to His disciples (and to each of us) to "go and make disciples of all nations, baptizing them in the name of the Father and the Son and the Holy Spirit. Teach them to obey all the commands I have given you…."(Matt28:19-20). This command is for every believer of all ages, to commit to bediscipled and to disciple others. The primary purpose of our church is to make disciples, who make disciples, who in turn make disciples. The Women's Discipleship effort aims to equip the women who want to live out this relationship with a fellow believer with training and support.
Questions? Contact Kasey Knott.
CLICK HERE TO LEARN ABOUt dgroups


Book Club:
Please mark your calendar... our next meeting will be held Tuesday, November 9th @ 7 pm.
We will be discussing The Prodigal God By: Timothy Keller
Using his characteristic intellectual approach to faith issues, Keller uncovers an unexpected message in the familiar---and often misunderstood---New Testament parable of the prodigal son. Seekers and believers alike will see Christianity in a whole new way when they learn how Christ's followers are supposed to love, so they can join him in heaven.
The New York Times bestselling author of The Prodigal Prophet uncovers the essential message of Jesus, locked inside his most familiar parable.

Newsweek called renowned minister Timothy Keller "a C.S. Lewis for the twenty-first century" in a feature on his first book, The Reason for God. In that book, he offered a rational explanation of why we should believe in God. Now, in The Prodigal God, Keller takes his trademark intellectual approach to understanding Christianity and uses the parable of the prodigal son to reveal an unexpected message of hope and salvation.

Within that parable, Jesus reveals God's prodigal grace toward both the irreligious and the moralistic. This book will challenge both the devout and skeptics to see Christianity in a whole new way.
Questions? Contact Amy Vann
Crochet With A Twist:
WEDNESDAY NIGHTS: 7:00 PM to 9:00 PM on campus in Meeting Room 1 (Connection Room). We would love to have you join us . . . all ages and skill levels are welcome! We will gladly teach you to crochet if you don't know-how. If you already know how to join us to work on a Women's Ministry project or one of your own. Women's Ministry projects include hats for preemie babies, prayer shawls, baby blankets for Grace House, and baby "loveys" for kids in the hospital. We also have devotion and prayer time.
Questions? Contact Amber Vrbas
3rd Thursday of each Month: 2:00 PM on campus in Coffee Bar. We would love to have you join us . . . all ages and skill levels are welcome! We will gladly teach you if you don't know-how. Join us for a relaxing way to connect with others here in the community.
Questions? Contact Gale Harris