Women's Ministry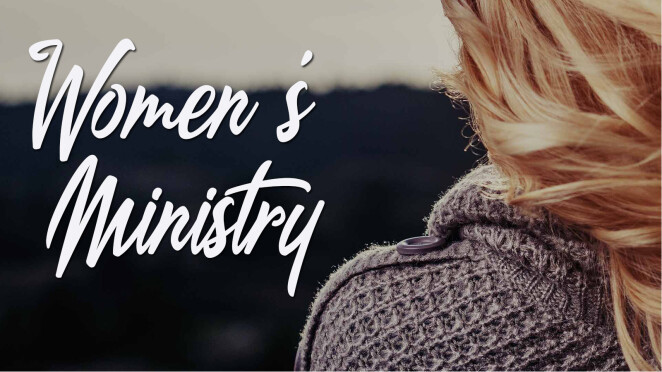 Women's Ministry is a place where we grow together, build relationships with each other, and serve alongside one another. We seek to lead women into a personal and passionate relationship with Jesus Christ, embracing the truth that we are in deep need of His saving grace.
This grace removes our pretense and frees us to be honest and real with ourselves and others as we find our worth and our identity in God. His life-giving grace takes hold of our hearts, transforming our lives in our friendships, marriages, church, community, and the world.
For more information, contact Kasey Knott or Shannon Young.
Events:
HER STORY: May 13th, 6:00 PM in Youth Room downstairs: Join us for an awesome HER STORY! This will be a treat! You will hear from one of our sweet women who is fighting her own journey with cancer. She will share how God is and continues to work in her life. The evening will be a great opportunity to make connections with other women, deepen friendships, and remember the great things God has done in our lives. Please bring your favorite dish, snack, or dessert to share.
CRAZY 6'S: June 8th, 6:00 PM meet at the church. We will then break into groups of six and leave for a local restaurant to connect with other women here at The Crossing
PRAYER WALK/WORSHIP NIGHT: July 20th, 6:00PM Here at The Crossing. More details to follow.
TABLE 2:4:6: Tuesday, August 10th at 6:00 PM Table 2:4:6 is a place to gather women and share a simple meal and dive deep with people over real stories and Christ-centered conversations. A time for a whole lot of laughter – and maybe a few tears – but time spent that leaves us with glad and full hearts. The vision is 2 hours; 4 questions; 6 women (Acts 2:46). Watch for sign-ups to come in July.
Small-Group Bible Studies:
Strengthen your relationship with God and with other believers by joining us in a life-giving small group setting that is drenched in fellowship, accountability, prayer, and the study of the Word. If you would like to get involved and lead a bible study please contact Kasey Knott.
Summer Bible Studies:
Wednesdays Mornings:
THE GOSPEL OF MARK
DAY, TIME & PLACE: WEDNESDAYS 9:30 am in Coffee Bar at Church at The Crossing
DATES: June 2, 9, 16, & 23 July 7, 14, & 20 August 4
Mark's Gospel is a proclamation that Jesus is the Messiah and Son of God, whose death and resurrection paid the penalty for our sins and achieved victory over Satan, Sin, and death. With this joyful announcement comes the call to all believers for faithful discipleship in the face of suffering and even in death."Whoever wants to be my disciple," Jesus says, must deny themselves and take up their cross and follow me" Mark 8:34
In this 8 week study on the Gospel of Mark, we will trace the steps of Jesus and the Twelve through Israel, and ask: Are we willing to take this journey to embrace discipleship?
Bring your bible and join us just as you are!
Childcare provided by emailing
Taught by: Jennifer Weber
WEDNESDAY EVENINGS:
GOD OF DELIVERANCE BY: Jen Wilkin
DAY, TIME & PLACE: WEDNESDAYS 5:30 pm in Coffee Bar at Church at The Crossing
DATES: June 2, 9, 16, & 23 July 7, 14, & 20 August 4
"Now there arose a new king over Egypt, who did not know Joseph" (Exodus 1:8).
With that introduction, we enter into the story of the Hebrew people in the Book of Exodus. No longer under the protection of their forefather Joseph, the children of Israel became slaves to the Egyptians. But God was raising up a deliverer in Moses, to lead His people from bondage to freedom so they could worship Him.
The exodus of the Israelites shapes our understanding of the whole Bible, its themes reverberating all the way to Revelation. Exodus is the birth narrative of a nation unmistakably guided by the Great Deliverer.
In this 10-session verse-by-verse study of Exodus 1–18, Jen Wilkin shows us that Israel's story is our story: the same God who delivered Israel also delivers all those He loves from slavery to sin and from service to the pharaohs of this world. He lifts our eyes to the promised land He has prepared where we dwell with I AM and worship Him as the one true God.
Bring your bible and join us just as you are!
Childcare provided by emailing
Taught by: Kasey Knott
MONDAY GROUP: (Virtual by Zoom)
THE BOOK OF JOHN
Meets by zoom on Mondays at 8:00 am. Studying the book of John. Questions? Contact Amber Vrbas
MOPS:
MOPS is open for registration for the 2021-2022 year. Being a mom is a challenging and sometimes lonely job. If you are a mother of a preschooler (pregnancy through kindergarten) and long for some "grown-up" time, then ALEDO MOPS welcomes you to join us! MOPS is a non-denominational, Christian organization dedicated to meeting the needs of mothers of young children. The women in MOPS come from different backgrounds, yet have similar needs and a shared desire to be the best moms they can be. There will be a time of small groups where we dig into God's Word and break it down together. There will be guest speakers, activities, coffee, and snacks.
Our meeting date is usually the second Monday of the month. There will be playdates and other events in addition to the meeting day. Watch for the schedule soon!
Please CLICK HERE to sign up and register for childcare.

Questions? Contact Tamara Welsh or Kasey Knott

Discipleship
Discipleship is not just another church program, but instead, it is a lifestyle to be adopted by every follower of Christ. It is a commitment to obey Jesus's last words to His disciples (and to each of us) to "go and make disciples of all nations, baptizing them in the name of the Father and the Son and the Holy Spirit. Teach them to obey all the commands I have given you…."(Matt28:19-20). This command is for every believer of all ages, to commit to bediscipled and to disciple others. The primary purpose of our church is to make disciples, who make disciples, who in turn make disciples. The Women's Discipleship effort aims to equip the women who want to live out this relationship with a fellow believer with training and support.
Questions? Contact Kasey Knott.
CLICK HERE TO LEARN ABOUt dgroups
Book Club:
Please mark your calendar... our next meeting will be held Tuesday, May 25th @ 7 pm.
We will be discussing Chasing Fireflies By Charles Martin
They have one summer to find what was lost long ago. "Never settle for less than the truth," she told him"." But when you don't even know your real name, the truth gets a little complicated. It can nestle so close to home it's hard to see. It can even flourish inside a lie. And as Chase Walker discovered, learning the truth about who you are can be as elusive and as magical as chasing fireflies on a summer night. A haunting story about fishing, baseball, home cooking, and other matters of life and death."
Questions? Contact Amy Vann
Crochet With A Twist:
WEDNESDAY NIGHTS: 7:00 PM to 9:00 PM on campus in Meeting Room 1 (Connection Room). We would love to have you join us . . . all ages and skill levels are welcome! We will gladly teach you to crochet if you don't know-how. If you already know how to join us to work on a Women's Ministry project or one of your own. Women's Ministry projects include hats for preemie babies, prayer shawls, baby blankets for Grace House, and baby "loveys" for kids in the hospital. We also have devotion and prayer time.
Questions? Contact Amber Vrbas