Women's Ministry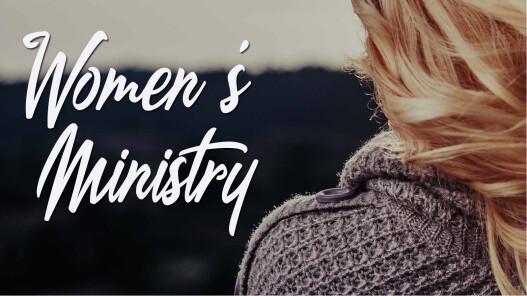 Women's Ministry is a place where we grow together, build relationships with each other, and serve alongside one another. We seek to lead women into a personal and passionate relationship with Jesus Christ, embracing the truth that we are in deep need of His saving grace.
This grace removes our pretense and frees us to be honest and real with ourselves and others as we find our worth and our identity in God. His life-giving grace takes hold of our hearts, transforming our lives in our friendships, marriages, church, community, and the world.
For more information, contact Shannon Young.
Events:
In light of the current COVID-19 situation, we as a church are asking our people to practice social distancing to minimize the spread of the virus. We encourage you to join us for bible study and worship service or by LIVESTREAM Sunday mornings and to continue meeting with your small groups in person or by using virtual means like zoom. If you need assistance with this please contact us.
Small Group Bible Studies:
Strengthen your relationship with God and with other believers by joining us in a life-giving small group setting that is drenched in fellowship, accountability, prayer, and the study of the Word.
MONDAY GROUP: (Virtual by Zoom)
Morning: 8:00am
This study is currently going thru the Book of John. This study will be done on zoom. Questions: Contact Amber Vrbas
WEDNESDAY GROUPS:
MORNING: 9:30am
The Best Yes By: Lysa TerKeurst
Are you living with the stress of an overwhelmed schedule and aching with the sadness of an underwhelmed soul?
Lysa TerKeurst is learning that there is a big difference between saying yes to everyone and saying yes to God. In The Best Yes she will help you:
Cure the disease to please with a biblical understanding of the command to love.
Escape the guilt of disappointing others by learning the secret of the small no.
Overcome the agony of hard choices by embracing a wisdom based decision-making process.
Rise above the rush of endless demands and discover your best yes today.
Questions? Contact Martha Reilly
AFTERNOON: 1:00pm
Get out of Your Head By: Jennie Allen. Starting February 3rd. This study will be held in Karen's Home.
Are your thoughts holding you captive? I'll never be good enough. Other people have better lives than I do. God couldn't really love me. Jennie Allen knows what it's like to swirl in a spiral of destructive thoughts, but she also knows we don't have to stay stuck in toxic thinking patterns.
As she discovered in her own life, God built a way for us to escape that downward spiral. Freedom comes when we refuse to be victims to our thoughts and realize we have already been equipped with power from God to fight and win the war for our minds.
In Get Out of Your Head, Jennie inspires and equips us to transform our emotions, our outlook, and even our circumstances by taking control of our thoughts. Our enemy is determined to get in our heads to make us feel helpless, overwhelmed, and incapable of making a difference for the kingdom of God. But when we submit our minds to Christ, the promises and goodness of God flood our lives in remarkable ways.
It starts in your head. And from there, the possibilities are endless.
Begins February 3rd. Questions? Contact Karen Mendenhall
EVENING: 5:30pm-7:00pm
Finishing up Take Courage: A Study of Haggai By: Jennifer Rothschild
Do you ever feel like the happy ending of your story is a million miles away?
Then you know how the Jewish people felt when they returned to their wrecked land after exile and began rebuilding the temple. They were distracted, discouraged, and ready to throw in the towel. But the prophet Haggai reminded them they could find courage in the God who had never left them.
Sometimes the landscapes of our lives feel wrecked, with our hope and purpose in shambles. We too get distracted and discouraged. However, God's presence and promises give us the courage to press on and trust Him with our story.
In this 7-session study on the Book of Haggai, learn to walk confidently in your calling, stay motivated despite opposition, and courageously invest your life in God's purposes, trusting Him for results you may never see in this lifetime.
Join us in the adult Building upstairs Room 201 beginning February 3rd. Book Cost is: $14
Questions? Contact Natalie Gass
CHILDCARE IS AVAILABLE FOR THIS STUDY
THURSDAY GROUPS:
Psalms 23 - Join us beginning February 4th 7:00PM at the church in Meeting Room 2. Questions? Contact Lindsey Ward
We are always looking for more small group leaders. If you are interested in leading a small group through a book of the Bible please contact Shannon Young.
MOPS:
MOPS is currently working on a schedule for the upcoming fall. Thank you for being flexible during our new normal. Being a mom is a challenging and sometimes lonely job. If you are a mother of a preschooler (pregnancy through kindergarten) and long for some "grown-up" time, then ALEDO MOPS welcomes you to join us! MOPS is a non-denominational, Christian organization dedicated to meeting the needs of mothers of young children. The women in MOPS come from different backgrounds, yet have similar needs and a shared desire to be the best moms they can be. There will be a time of small groups where we dig into God's Word and break it down together. There will be guest speakers, activities, coffee, and snacks.
Upcoming meeting dates:
February 8th, March 8th, April 12th & May 10th
Upcoming Playdates:
February 29th - Kids crafts in gym

Questions? Contact Tamara Welsh or Kasey Knott

Discipleship
Discipleship is not just another church program, but instead, it is a lifestyle to be adopted by every follower of Christ. It is a commitment to obey Jesus's last words to His disciples (and to each of us) to "go and make disciples of all nations, baptizing them in the name of the Father and the Son and the Holy Spirit. Teach them to obey all the commands I have given you…."(Matt28:19-20). This command is for every believer of all ages, to commit to bediscipled and to disciple others. The primary purpose of our church is to make disciples, who make disciples, who in turn make disciples. The Women's Discipleship effort aims to equip the women who want to live out this relationship with a fellow believer with training and support. Questions? Contact Shannon Young.
CLICK HERE TO LEARN ABOUt dgroups
Book Club:
Please mark your calendar... our next meeting will be held Tuesday, March 23rd @ 7 pm.
We will be discussing Imagine Heaven By: John Burke
All of us long to know what life after death will be like. Bestselling author John Burke is no exception. In Imagine Heaven, Burke compares over 100 gripping stories of near-death experiences (NDEs) to what Scripture says about our biggest questions of Heaven: Will I be myself? Will I see friends and loved ones? What will Heaven look like? What is God like? What will we do forever? What about children and pets?
For decades, Burke has been studying accounts of survivors brought back from near death who lived to tell of both heavenly and hellish experiences. While not every detail of individual NDEs correlates with Scripture, Burke shows how the common experiences shared by thousands of survivors--including
doctors, college professors, bank presidents, people of all ages and cultures, and even blind people--
point to the exhilarating picture of Heaven promised in the Bible.
This thrilling journey into the afterlife will make you feel like you've been there. It will forever change the way you view the life to come and the way you live your life today. You'll discover Heaven is even more amazing than you've ever imagined.
Crochet With A Twist:
WEDNESDAY NIGHTS: 7:00 PM to 9:00 PM on campus in Meeting Room 1 (Connection Room). We would love to have you join us . . . all ages and skill levels are welcome! We will gladly teach you to crochet if you don't know-how. If you already know how join us to work on a Women's Ministry project or one of your own. Women's Ministry projects include hats for preemie babies, prayer shawls, baby blankets for Grace House and baby "loveys" for kids in the hospital. We also have devotion and prayer time.
Questions? Contact Amber Vrbas
RESOURCES RECOMMENDED: