Women's Ministry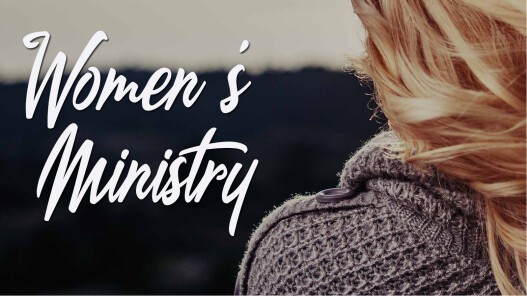 Women's Ministry is a place where we grow together, build relationships with each other, and serve alongside one another. We seek to lead women into a personal and passionate relationship with Jesus Christ, embracing the truth that we are in deep need of His saving grace.
This grace removes our pretense and frees us to be honest and real with ourselves and others as we find our worth and our identity in God. His life-giving grace takes hold of our hearts, transforming our lives in our friendships, marriages, church, community, and the world.
For more information, contact Shannon Young.
Events:
HER STORY - February 3rd - Coffee Bar - 6pm
IF: GATHERING PARKER COUNTY - March 6-7 - for women of all ages - will be at Trinity Bible Church in Willow Park - COST $40 - CLICK HERE TO SIGN UP
This year's theme: RISKY OBEDIENCE
Turn off all the noise, get in the Word, experience powerful teaching, dive into authentic conversations, worship Jesus, and hear stories that will compel you to take your next steps towards joy through obedience.
Small Group Bible Studies:
Strengthen your relationship with God and with other believers by joining us in a life-giving small group setting that is drenched in fellowship, accountability, prayer and the study of the Word.
WEDNESDAY GROUPS:
Morning: 9:30am (Begins January 15th)
Finding God Faithful: A Study of the Life of Joseph By: Kelly Minter
Trace the path of Joseph's life in the Book of Genesis to observe how God's sovereignty reigns, even in our darkest moments. Learn to recognize when God is working during periods of waiting, trust God's plan when life doesn't make sense, and rest in the sufficiency of His presence in every circumstance. His provision is enough, His presence is constant, and His purpose is unstoppable.
Questions: Contact: Martha Reilly
Afternoon: 1:00 pm - 3:00 pm (Begins January 15th)
Trustworthy: By: Lysa TerKeurst
When hard times come and it seems God is deviating from the plan we assume our life should follow, we're more likely to want to tame God, not trust Him. It's then that we begin to press into our ways and our own timing. No human can carry the weight of being their own god, but so many of us try.

In this 6-session study of 1 & 2 Kings, join Lysa TerKeurst in Israel as she honestly reveals the places of distrust in her own heart while exploring the deeply applicable Scriptures that will teach us how to truly trust God.
Location: Karen Mendenhall's Home
NO CHILDCARE PROVIDED FOR THIS STUDY
Questions: Contact Karen Mendenhall
EVENING: 5:30pm-7:00pm (Resumes January 15th)
God of Covenant: A Study of Genesis 12 By: Jen Wilkins CHILDCARE WILL BE PROVIDED.
Following this study we will go into Patriarchs By: Beth Moore
Questions? Contact Kasey Knott
EVENING: 5:30pm-6:30pm (Resumes January 15th)
Studying the Book of Proverbs. CHILDCARE WILL BE PROVIDED. Questions? Contact Teri Kubosh
THURSDAY GROUPS:
MORNING: 10:00am (Resumes January 9th)
Join us as we continue our journey through the Book of Daniel. Our study examines the timeless principles God gave us through His Word, and how to apply them to our lives today. You won't want to miss this exciting time of fellowship and spiritual growth. Questions?: Contact Chris Gardiner
EVENING: 7:00pm (Begins January 16th)
Book of Ruth By: Bianca Juárez Olthoff
God can seem distant when dreams fade, people die, or careers fail. It may feel like He slammed the door in your face and walked out for good. No one knows the feeling of abandonment more than Ruth and Naomi. Their story begins with the worst—death, famine, and poverty. And God remains silent.
But the book of Ruth doesn't end with despair. The story brims with hope because God works on behalf of the two widows in ways they least expect. In this 7-part series, Bianca Juárez Olthoff, speaker and author of Play with Fire, teaches through Ruth to show how God moves behind the scenes in our lives. On the surface, this book tells the story of two widows and a kind landowner. Even more, it teaches us about God's faithfulness, love, and providence.
Walk the journey of Ruth, Naomi, and Boaz and discover the devoted love of God and His transformative power in our lives.
NO CHILDCARE PROVIDED FOR THIS STUDY
QUESTIONS? Contact Lindsey Ward
We are always looking for more small group leaders. If you are interested in leading a small group through a book of the Bible please contact Shannon Young.
MOPS:
MOPS will meet 9:30 AM -11:30 AM on campus in the Gym on the 2nd & 4th Mondays of each month following the school schedule. Being a mom is a challenging and sometimes lonely job. If you are a mother of a preschooler (pregnancy through kindergarten) and long for some "grown-up" time, then ALEDO MOPS welcomes you to join us! MOPS is a non-denominational, Christian organization dedicated to meeting the needs of mothers of young children. The women in MOPS come from different backgrounds, yet have similar needs and a shared desire to be the best moms they can be. There will be a time of small groups where we dig into God's Word and break it down together. There will be guest speakers, activities, coffee and snacks.
MOPS Registration is currently open for the 2019-2020 year.

Click Here To Sign Up
Questions? Contact Sarah Meadows.
TABLE 2:4:6
Table 2:4:6 is a place to gather women and share a simple meal and dive deep with people over real stories and Christ-centered conversations. A time for a whole lot of laughter – and maybe a few tears – but time spent that leaves us with glad and full hearts.
We're inviting you to join in by either serving as a table host or coming to a table gathering as a participant. The vision is: 2 hours; 4 questions; 6 women (Acts 2:46) Questions? Contact Barbie Ledford.

Discipleship
Discipleship is not just another church program, but instead, it is a lifestyle to be adopted by every follower of Christ. It is a commitment to obey Jesus's last words to His disciples (and to each of us) to "go and make disciples of all nations, baptizing them in the name of the Father and the Son and the Holy Spirit. Teach them to obey all the commands I have given you…."(Matt28:19-20). This command is for every believer of all ages, to commit to bediscipled and to disciple others. The primary purpose of our church is to make disciples, who make disciples, who in turn make disciples. The Women's Discipleship effort aims to equip the women who want to live out this relationship with a fellow believer with training and support. Questions? Contact Shannon Young.
CLICK HERE TO LEARN ABOUt dgroups
Crochet With A Twist:
WEDNESDAY NIGHTS: 7:00 PM to 9:00 PM on campus in Meeting Room 1 (Connection Room). We would love to have you join us . . . all ages and skill levels are welcome! We will gladly teach you to crochet if you don't know how. If you already know how join us to work on a Women's Ministry project or one of your own. Women's Ministry projects include hats for preemie babies, prayer shawls, baby blankets for Grace House and baby "loveys" for kids in the hospital. We also have a devotion and prayer time.
Questions? Contact Amber Vrbas
Book Club:
Our current reading is God has a name By John Mark Comer
Our discussion will be Tuesday, February 11th at 7:00 pm.
Many of us ache for relationship with God, yet feel distant and disconnected from him. As if he's more of an idea we believe in our head than a person we relate to. But God has a name: Yahweh. This one simple idea has the potential to radically alter how you relate to God, not as a doctrine, but as a relational being who responds to you in an elastic, back-and-forth way.

Why do we feel this gap between us and God? Could it be that a lot of what we think about God is wrong? Not all wrong, but wrong enough to mess up how we relate to him? What if our "God" is really a projection of our own identity, ideas, and desires? And what if the real God is different, but far better than we could ever imagine?

This book is a simple, but profound guide to what God says about himself. In his signature conversational-but-smart style, John Mark Comer takes the reader line by line through Exodus 34v6-8—Yahweh's self-revelation on Mount Sinai—called by some scholars the one most quoted verse in the Bible, by the Bible. In it, we see who God says he is.

It turns out, who God is just might surprise you, and change everything.
Questions? Contact Amy Vann.
RESOURCES RECOMMENDED: