Women's Ministry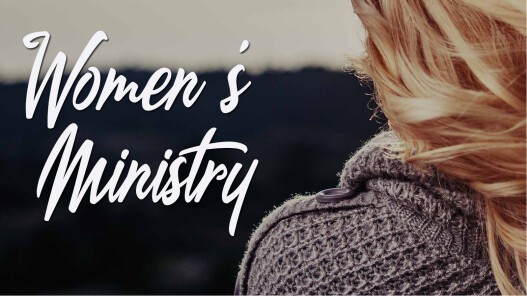 Women's Ministry is a place where we grow together, build relationships with each other, and serve alongside one another. We seek to lead women into a personal and passionate relationship with Jesus Christ, embracing the truth that we are in deep need of His saving grace.
This grace removes our pretense and frees us to be honest and real with ourselves and others as we find our worth and our identity in God. His life-giving grace takes hold of our hearts, transforming our lives in our friendships, marriages, church, community, and the world.
For more information, contact Shannon Young.
Events:
Small Group Bible Studies:
Strengthen your relationship with God and with other believers by joining us in a life-giving small group setting that is drenched in fellowship, accountability, prayer and the study of the Word.
WEDNESDAY GROUPS:
afternoon: 1:00 pM - 3:00 pM
Finding God Faithful: A Study of the Life of Joseph By: Kelly Minter
Trace the path of Joseph's life in the Book of Genesis to observe how God's sovereignty reigns, even in our darkest moments. Learn to recognize when God is working during periods of waiting, trust God's plan when life doesn't make sense, and rest in the sufficiency of His presence in every circumstance. His provision is enough, His presence is constant, and His purpose is unstoppable. NO CHILDCARE PROVIDED FOR THIS STUDY
Questions: Contact Karen Mendenhall
EVENING: 5:30pm-7:00pm
God of Covenant: A Study of Genesis 12-50: Jen Wilkins CHILDCARE WILL BE PROVIDED. Questions? Contact Kasey Knott
EVENING: 5:30pm-6:30pm
Studying the Book of Proverbs. CHILDCARE WILL BE PROVIDED. Questions? Contact Teri Kubosh
THURSDAY GROUPS:
MORNING: 10:00am
Study Group - Begins Sept. 12th
Join us as we journey through the Bible in this new interactive class. Our study examines the timeless principles God gave us through His Word, and how to apply them to our lives today. You won't want to miss this exciting time of fellowship and spiritual growth. Questions?: Contact Chris Gardiner
EVENING: 7:00 pM
Miracles of Jesus by Jennie Allen, Bianca Juárez Olthoff, Jada Edwards, and Sadie Robertson
Miracles of Jesus explores all four Gospels with teaching from Jennie Allen, Bianca Juárez Olthoff, Jada Edwards, and Sadie Robertson. Discover the ways Jesus healed, provided for, calmed, and resurrected the people he encountered. This study is about believing in the power of God who can accomplish anything. There's nothing too big or too small for us to bring to him.
When we take time to learn about the overflowing kindness Jesus demonstrated to all kinds of people through miracles during his time on earth, we realize that he is radically generous, compassionate, and honoring toward all people. As you watch teaching from the places in Israel where Jesus performed miracles and dig into God's Word, you will end the study in awe of the Messiah who relentlessly seeks, saves, and restores us. NO CHILDCARE PROVIDED FOR THIS STUDY
QUESTIONS? Contact Lindsey Ward
We are always looking for more small group leaders. If you are interested in leading a small group through a book of the Bible please contact Anne Seaberry.
MOPS:
MOPS will meet 9:30 AM -11:30 AM on campus in the Gym on the 2nd & 4th Mondays of each month following the school schedule. Being a mom is a challenging and sometimes lonely job. If you are a mother of a preschooler (pregnancy through kindergarten) and long for some "grown-up" time, then ALEDO MOPS welcomes you to join us! MOPS is a non-denominational, Christian organization dedicated to meeting the needs of mothers of young children. The women in MOPS come from different backgrounds, yet have similar needs and a shared desire to be the best moms they can be. There will be a time of small groups where we dig into God's Word and break it down together. There will be guest speakers, activities, coffee and snacks.
MOPS Registration is currently open for the 2019-2020 year.

Click Here To Sign Up
Questions? Contact Sarah Meadows.
TABLE 2:4:6
Table 2:4:6 is a place to gather women and share a simple meal and dive deep with people over real stories and Christ-centered conversations. A time for a whole lot of laughter – and maybe a few tears – but time spent that leaves us with glad and full hearts.
We're inviting you to join in by either serving as a table host or coming to a table gathering as a participant. The vision is: 2 hours; 4 questions; 6 women (Acts 2:46) Questions? Contact Barbie Ledford.

Discipleship
Discipleship is not just another church program, but instead, it is a lifestyle to be adopted by every follower of Christ. It is a commitment to obey Jesus's last words to His disciples (and to each of us) to "go and make disciples of all nations, baptizing them in the name of the Father and the Son and the Holy Spirit. Teach them to obey all the commands I have given you…."(Matt28:19-20). This command is for every believer of all ages, to commit to bediscipled and to disciple others. The primary purpose of our church is to make disciples, who make disciples, who in turn make disciples. The Women's Discipleship effort aims to equip the women who want to live out this relationship with a fellow believer with training and support. Questions? Contact Anne Seaberry or Andrea Nelson.
Crochet With A Twist:
WEDNESDAY NIGHTS: 7:00 PM to 9:00 PM on campus in Meeting Room 1 (Connection Room). We would love to have you join us . . . all ages and skill levels are welcome! We will gladly teach you to crochet if you don't know how. If you already know how join us to work on a Women's Ministry project or one of your own. Women's Ministry projects include hats for preemie babies, prayer shawls, baby blankets for Grace House and baby "loveys" for kids in the hospital. We also have a devotion and prayer time.
Questions? Contact Amber Vrbas
Book Club:
Our current reading is Atonement Child By Francine Rivers.
Our discussion will be Tuesday, November 12th at 7:00 pm.
In one terrifying moment, Dynah Carey's perfect life is shattered by rape, her future irrevocably altered by an unwanted pregnancy, and her doting family torn apart. Her seemingly rock-solid faith is pushed to the limits as she faces the most momentous choice of her life - to embrace or to end the untimely life within her.
Questions? Contact Amy Vann.
RESOURCES RECOMMENDED: