Women's Ministry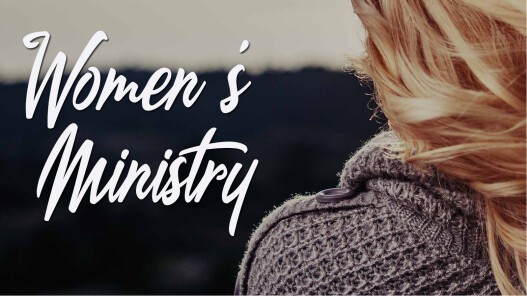 Women's Ministry is a place where we grow together, build relationships with each other, and serve alongside one another. We seek to lead women into a personal and passionate relationship with Jesus Christ, embracing the truth that we are in deep need of His saving grace.
This grace removes our pretense and frees us to be honest and real with ourselves and others as we find our worth and our identity in God. His life-giving grace takes hold of our hearts, transforming our lives in our friendships, marriages, church, community, and the world.
For more information, contact Shannon Young.
Events:
In light of the current COVID-19 situation, we as a church are asking our people to practice social distancing to minimize the spread of the virus. The church building will resume normal Sunday Morning schedule beginning August 23rd. We encourage you to join us for bible study and worship service or by LIVESTREAM Sunday mornings and to continue meeting with your small groups in person or by using virtual means like zoom. If you need assistance with this please contact us.
Small Group Bible Studies:
Strengthen your relationship with God and with other believers by joining us in a life-giving small group setting that is drenched in fellowship, accountability, prayer, and the study of the Word.
MONDAY GROUP: (Virtual by Zoom)
Morning: 8:00am
This study is currently going thru the Book of John. This study will be done on zoom. Questions: Contact Amber Vrbas
WEDNESDAY GROUPS:
MORNING: 9:30am
Get out of your Head By: Jennie Allen This will be held at church in the Meeting Room 1.
Join us at church beginning Sept. 16th. Questions? Contact Martha Reilly
AFTERNOON: 1:00pm
Finishing up the study Chasing Vines by: Beth Moore. This study will be held in Karen's Home.
Begins September 30th. Questions? Contact Karen Mendenhall
EVENING: 5:30pm-7:00pm
Trustworthy: A Study from 1 & 2 Kings By: Lisa TerKeurst
When hard times come and it seems God is deviating from the plan we assume our life should follow, we're more likely to want to tame God, not trust Him. It's then that we begin to press into our ways and our own timing. No human can carry the weight of being their own god, but so many of us try.

Join Lysa TerKeurst in Israel as she honestly reveals the places of distrust in her own heart while exploring the deeply applicable Scriptures that will teach us how to truly trust God.
Join us in the adult Building upstairs Room 201 beginning September 9th. Book Cost is: $16 Questions? Contact Kasey Knott
CHILDCARE IS AVAILABLE FOR THIS STUDY
EVENING: 5:45pm-6:45pm
This study is currently going thru the Gospel of Mark. This will be held in Room 102 (behind the kitchen area.)
Begins September 9th. Questions? Contact Teri Kubosh
THURSDAY GROUPS:
JUDE Bible Study By: Jackie Hill Perry - Join us beginning September 10th 7:00PM at the church in Meeting Room 2. Questions? Contact Lindsey Ward
We are always looking for more small group leaders. If you are interested in leading a small group through a book of the Bible please contact Shannon Young.
MOPS:
MOPS is currently working on a schedule for the upcoming fall. Thank you for being flexible during our new normal. Being a mom is a challenging and sometimes lonely job. If you are a mother of a preschooler (pregnancy through kindergarten) and long for some "grown-up" time, then ALEDO MOPS welcomes you to join us! MOPS is a non-denominational, Christian organization dedicated to meeting the needs of mothers of young children. The women in MOPS come from different backgrounds, yet have similar needs and a shared desire to be the best moms they can be. There will be a time of small groups where we dig into God's Word and break it down together. There will be guest speakers, activities, coffee, and snacks.
Upcoming meeting dates:
October 19 . November 9 . December 14 . January 11

Questions? Contact Tamara Welsh or Kasey Knott
TABLE 2:4:6
Table 2:4:6 is a place to gather women and share a simple meal and dive deep with people over real stories and Christ-centered conversations. A time for a whole lot of laughter – and maybe a few tears – but time spent that leaves us with glad and full hearts.
We're inviting you to join in by either serving as a table host or coming to a table gathering as a participant. The vision is: 2 hours; 4 questions; 6 women (Acts 2:46) Questions? Contact Barbie Ledford.

Discipleship
Discipleship is not just another church program, but instead, it is a lifestyle to be adopted by every follower of Christ. It is a commitment to obey Jesus's last words to His disciples (and to each of us) to "go and make disciples of all nations, baptizing them in the name of the Father and the Son and the Holy Spirit. Teach them to obey all the commands I have given you…."(Matt28:19-20). This command is for every believer of all ages, to commit to bediscipled and to disciple others. The primary purpose of our church is to make disciples, who make disciples, who in turn make disciples. The Women's Discipleship effort aims to equip the women who want to live out this relationship with a fellow believer with training and support. Questions? Contact Shannon Young.
CLICK HERE TO LEARN ABOUt dgroups
Crochet With A Twist:
WEDNESDAY NIGHTS: 7:00 PM to 9:00 PM on campus in Meeting Room 1 (Connection Room). We would love to have you join us . . . all ages and skill levels are welcome! We will gladly teach you to crochet if you don't know-how. If you already know how join us to work on a Women's Ministry project or one of your own. Women's Ministry projects include hats for preemie babies, prayer shawls, baby blankets for Grace House and baby "loveys" for kids in the hospital. We also have a devotion and prayer time.
Questions? Contact Amber Vrbas
Book Club:
Our current reading is The Medallion By Cathy Gohlke
Our discussion will be Tuesday, September 15th at 7:00 pm. Location TBA.
For fans of best-selling World War II fiction like Sarah's Key and The Nightingale comes an illuminating tale of courage, sacrifice, and survival, about two couples whose lives are ravaged by Hitler's mad war yet eventually redeemed through the fate of one little girl.
Seemingly overnight, the German blitzkrieg of Warsaw in 1939 turns its streets to a war zone and shatters the life of each citizen - Polish, Jewish, or otherwise. Sophie Kumiega, a British bride working in the city's library, awaits news of her husband, Janek, recently deployed with the Polish Air Force. Though Sophie is determined that she and the baby in her womb will stay safe, the days ahead will draw her into the plight of those around her, compelling her to help, whatever the danger.
Rosa and Itzhak Dunovich never imagined they would welcome their longed-for first child in the Jewish ghetto, or that they would let anything tear their family apart. But as daily atrocities intensify, Rosa soon faces a terrifying reality: to save their daughter's life, she must send her into hiding. Her only hope of finding her after the war - if any of them survive - is a medallion she cuts in half and places around her neck.
Inspired by true events of Poland's darkest days and brightest heroes, The Medallion paints a stunning portrait of war and its aftermath, daring us to believe that when all seems lost, God can make a way forward.
Questions? Contact Amy Vann.
RESOURCES RECOMMENDED: