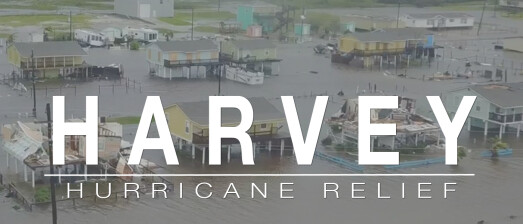 Update Via October 15th
I wanted to give you an update on what has been going on with our efforts in Hurricane Harvey relief and some upcoming service opportunities.
We sent an assessment team to the gulf coast to get some eyes on the ground and do the leg work of finding churches we could partner with for the duration of the rebuilding. We sat down and met last night to recap their visit and determine what is next. Their overwhelming recommendation was to come along side and partner with FBC Port Aransas. They are still severely struggling and are overwhelmed with what still needs to be done.
The first way we want to try to help their body is by providing gift cards that they can distribute to the community. We are looking for grocery and building material cards in denominations of $20 or less. HEB and Walmart have reopened as have Home Depot, Lowe's and Ace Hardware. You can bring these to the office anytime or if you see me, I will be happy to gather them. We will then send these down to FBCPA. So, anytime you are at the store, grab a gift card in $5, $10, $15, or $20. As of now, there is no end date for this so keep them coming!
Our second service opportunity is to send teams down to Rockport with a group called Storm Warriors. Bill Ford is their leader and takes teams repeatedly down there. This group is doing phenomenal things down there and provided the coordination for what we felt called to do on the coast. The first trip that is available is NEXT WEEKEND.
November 18-21. Gulf Coast Family Mission Trip
We will be partnering with Storm Warriors to go down to the coast and aid those recovering from Hurricane Harvey. We are looking for anyone interested in going down there to work or minister. All skill levels welcome!! Families are welcome and we ask you to use your judgement as to wether your kiddo will be able to handle this trip.
Storm Warriors will arrange our lodging but you will be responsible for paying for it along with food. We will try to arrange for church vans to transport us so we don't need to all take our vehicles.
This is the Saturday through Tuesday prior to Thanksgiving and will be a wonderful opportunity to serve these people with your entire family. We would love to take a great group to really love on them.
Please email me at or call/text me at 210-279-4677 to let me know if you are interested.
Hurricane Harvey hit the Texas coast as a Category 4 storm on Friday, August 25. Damage from the storm and subsequent flooding is widespread. It will take months and years to restore the Texas coast. As a part of our mission to make disciples, specifically through gospel-centered service, we are called to respond. We are called to provide for the physical and spiritual needs of these people in crisis by praying, giving and using our resources and influence. It is an opportunity to show the love of Christ and live out the gospel to our world.
Pray
Pray for those that have lost loved ones or have suffered injury due to the storm. Ask the Lord to comfort them in the upcoming days
Pray for those affected by hurricane Harvey that have had to evacuate their homes and that the Lord would restore them, especially those who did not have insurance
Pray for the relief volunteers for their safety, strength and endurance and that God's love is shown through their relief efforts (2 Corinthians 1:3-4)
Pray that even through tragedy people would still be drawn to Christ (Romans 8:26-28)
Give
Go
As a church body we feel the Lord has led us to send our relief efforts to the area comprising Aransas County - Aransas Pass, Port Aransas, Rockport. The damage in these areas is different from the damage in Houston (wind damage more than flooding). The Crossing Missions team is currently evaluating churches in these areas that we can help and support. We are sending a small team down to assess the needs and plan future work trips that we as a church can partner with as they move from recovery to rebuilding.