Click on the each picture to get a bio and contact information!
« Back to Staff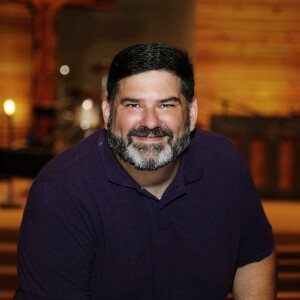 Sean Nicholson
Facilities Assistant
Sean has been on staff at Church at the Crossing, as facilities assistant, since September 2015. He was born and raised in Nigeria, West Africa as a missionary kid. Sean has used his gift of service in financial services and as a team member at Target before he felt the Lord calling him to use his gifts to serve at CATC.
Sean met his wife Lendy, when they were both freshmen at Ouachita Baptist. After 3 years of being friends, the Lord brought them together in 1997 and they were married on June 13,1998. Sean and Lendy have two boys, Zachary and Daniel, and a daughter, Kendall. Zachary was born in 2004 and Daniel was born in 2005. Through a series of miraculous events, both boys were adopted by Sean and Lendy in 2007 as well as Kendall in 2017. The kids attend school in Aledo and are always running from one thing to another. Lendy is also a missionary kid from West Africa. She is a proud 4th grade teacher in Aledo ISD at Walsh Elementary.
Sean and Lendy love spending time with family. Sean is an avid soccer fan, loves playing board games and is always ready to talk to a friend or stranger. Sean's favorite bible verse has always been Jeremiah 29:11.
Contact Information