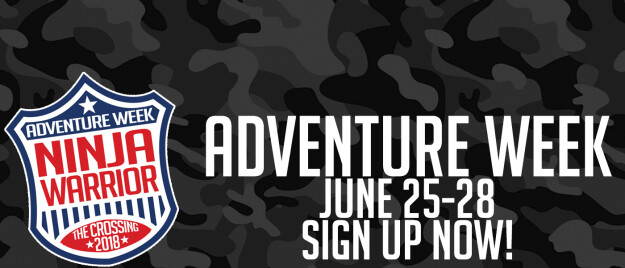 Adventure Week 2018
Daily, from 06/25/2018 to 06/28/2018, 9:20 AM - 12:20 PM
Adventure Week at The Crossing is our amped up version of VBS!
The theme this year is NINJA WARRIOR GAMES.
The kids will be doing Bible Study out of Hebrews 12:1-2
Therefore, since we are surrounded by such a huge crowd of witnesses to the life of faith, let us strip off every weight that slows us down, especially the sin that so easily trips us up. And let us run with endurance the race God has set before us. 2 We do this by keeping our eyes on Jesus, the champion who initiates and perfects our faith…
We will study the lives of Esther, Gideon, Paul, and Ruth and see how they finished well. If you have any questions please contact: Shawn Powell, Brandi Little, or Connie Hayden.